A wedding in Rome! One of the most romantic wedding destination in the world. This was Anna Victoria and Luca's dream. Since the very first time they got in touch with Italian Rome Wedding – our thematic website for Rome weddings – they feel in love with our proposals.
Rome has all you need for an unforgettable wedding in Italy. Rome has the splendour of the past, a unique architecture, wonderful views, glorious churches, incredible fountains and ancient monuments. Each corner of this city could be a wonderful discovery with its narrow road and pastel colour houses.
Anna Victoria, fitness bride star on Instagram
Luca is an Italian entrepreneur. He was born in Rome. Anna Victoria is a famous fitness guru with more than 1,3 millions followers on Instagram. One of her most famous post – it reached 350.000 likes – is the one she posted the day before of her wedding in Rome. Post showed her in two different poses with the encouraging caption for all women who follow her everyday. She showed that defects are totally normal.
"Picture on the left was taken one day before the wedding and the picture on the right was taken… 2 minutes after!
Someone recently said to me that we all have our good angles and we all have our bad angles, so why do we let our bad angles carry so much more weight than our good angles?
If you focus on how bad you look in the bad angles, at least focus on how good you look in the good ones too!!
Society cannot fix beauty canons. We need to love ourselves. We deserve to do it. It is easer saying it than doing it but we have to do it."
This was a standing ovation on the web!
Follow our bride Anna Victoria on her web-site www.annavictoria.com
A luxurious Roman Catholic Ceremony in Rome
Luca and Anna Victoria got married in Rome in majestic Church of Santa Maria in Aracoeli, one of the most beautiful and famous abbey in Rome.
Anna Victoria wore a wonderful wedding dress designed by Berta Bridal Couture. Her bridal bouquet was designed in total white with peonies and roses. It perfectly matched her style. A wonderful bride with a fairy tale bridal bouquet and a fabulous bridal dress.
Wedding Reception at Villa Miani overlooking Rome Skyline
After the ceremony Anna Victoria and Luca invited their guests for an amazing wedding reception at Villa Miani. Villa Miani is one of the best venue for a luxury reception in rome. A stunning venue with a great view over Rome skyline and St Peter's Abbey dome.
Let the images speak for themselves… a fantastic wedding in Rome
Wedding Planner:

Location:

Villa Miani, Rome

Photographer:

Bre Thurston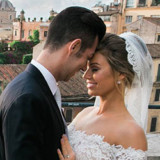 A passionate wedding planner to work with!
Our advice to any couple looking to hire a wedding planner is to research a list of questions to ask wedding planners before you meet so you can narrow down if your style matches that of the wedding planner's. Next step is to contact Italian Wedding Company and get started! Stefania was our wedding planner and we couldn't have asked for a more professional, caring and passionate wedding planner to work with!
Anna Victoria and Luca
Married on 05/14/2016
Dear Anna, thank you for the sweet words!! With you and Luca everything has been easy for me, you have been gentle, clever and sweet! A real joy to work for you!
– Stefania