A wedding in Puglia (aka Apulia) let us think about sun, beaches, seaside, natural landscapes and traditional architecture such as Trulli and Masserias. We cannot forget about amazing food and Apulian wine. Food you cannot miss is Burrata, Orecchiette with cime di raps, TIella Barese and Friselle. Among the great wines Primitive di Manduria, Nero di Troia, Negroamaro and Salice Salentino.
Blend all these elements and you will discover the reason because so many couples coming from all over the world choose Puglia for their wedding destination.
Ellisha and Timothy are English, they come from West Cornwall, UK. They chose Polignano a Mare as their wedding destination. Are you wondering why?
Certainly explanations are more than plausible! The place has crystal clear waters, caves – famous Grotta Palazzese (now transformed in an exclusive restaurant) and breathtaking sceneries. The town is one of the most listed in terms of tourism and overlooks completely overhanging Adriatic Sea. Those people lucky enough to visit it will be certainly fascinated.
Wedding in Polignano a Mare, Puglia
We cannot forget about Polignano a Mare where famous Italian singer Domenico Modugno was born. He is the author of one of the most famous Italian songs: Volare. Seashore hosts a statue of the signer and a lot of people goes there to see it. Elisha and Timothy did not miss the chance to take a picture beside him.
Ellisha and Timothy decided to get married in summer, and planning their event was a real pleasure for us!
Our wedding planner Elena planned and coordinated the wedding for bride and groom and their guests, from the ceremony to wedding reception. Civil ceremony was performed in Polignano town hall and it was conducted by Michela – wedding celebrant for Apulian Weddings.
We let images speak for themselves. Golden beaches, breathtaking views, secular olive trees, ancient farms, great food and wine. A perfect wedding in Apulia means make your dreams come true.
Wedding Planner:

Location:

Polignano a Mare

Photographer:

Antonio Di Rocco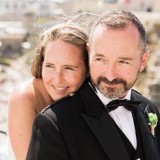 "You were amazing! You helped us have a truly special day we will never forget!
Highly recommended. Fantastic planner who was there to guide and assist with everything. Beautiful location and beautiful professional lady with a heart of gold. All about the love and perfection for us as a couple. Thank you Elina. ❤💏💍"
Ellisha and Timothy
Married on 08/28/2018