A Wedding on Lake Orta! This small lake side of bigger Lake Maggiore and Lake Como is surely one of the most romantic destination of all Italian Lake District.
Jessica and Paul chose it to tie the knot and the day was incredibly romantic.
Orta village is a small medieval and full pedestrian village located on Lake Orta shores.
Being here is a like a leap in the past. Orta is charming, relaxing, traditionally Italian and incredibly authentic. The village is very small and quaint.
A romantic civil ceremony at Villa Bossi, lake Orta
The village can host legal civil ceremonies in the garden of Villa Bossi the town hall of Orta itself.
The bride here arrives by boat just like Jessica did. She was stunning in her dress with pearls and crystal details on the back.
Ceremony can be performed outdoor by the shores among flowers and nature. Alps are the perfect backdrop for this canvas.
After the ceremony you can choose among several reception venues for your wedding reception by the shores. A pretty hotel or a charming restaurants, a beach club or even a little traditional restaurant on St. Julius Island.
Special wedding photos on St. Julius Island
St. Julius island is the pearl of small Lake Orta. It is located just in front of the village and it is pedestrian too.
After the ceremony Jessica and Paul reached the island by boat for their special wedding photos.
The Island is so peaceful and incredibly poetic.
In the meanwhile guests had a lovely boat tour on the lake to reach reception venue by the shores.
Bride and groom arrived just after them for their grand entrance.
The party was great, hundreds of fairy lights, delicious food and enchanting night view over the lake and its Island.
Paper mache favours and stationary were all made by the bride… she definitely has style!
This is what we call Italian romanticism. The perfect wedding on Lake Orta.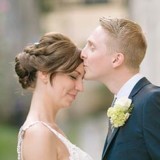 Our wedding on Lake Orta
on 07/25/2014
Valentina & Ernesto are both lovely and we were confident that we could trust them to make our wedding day as wonderful as it eventually was. I would recommend an initial visit to your chosen location as this really helped us to make decisions about what we wanted and to imagine how our wedding day would be organised.
Jessica and Paul
"Thank you Jessica for your kind review and comments. They helped us a lot. We are pleased you had a wonderful day and we really thank you for choosing us and sharing with us a special time. We wish you all the best for your new life!"
– Valentina
Wedding Planner:

Location:

Villa Bossi, lake Orta

Photographer:

David Bastianoni